Percy Aubin's patent finger-joint saw
Posted on
Sometimes, when going through a joiners chest of tools that I have purchased, I come across an 'oddity', or something that I have not seen before.
This saw, is just such a tool.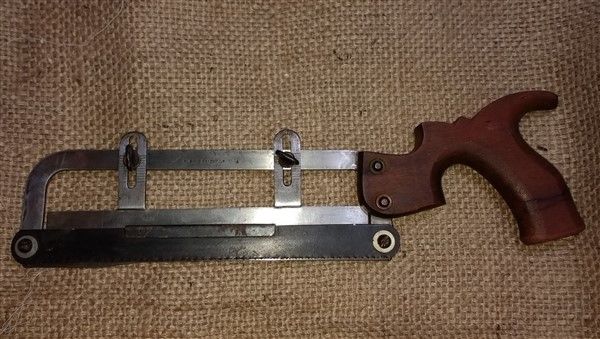 It is marked "AUBIN'S PATENT No 17038", which is the British patent.
Whilst the American patent is number 1,729,092, and was applied for by Percy Adrian Aubin, of St Aubin's, Jersey, Channel Islands, and is entitled "TENON SAW", dated September 1929.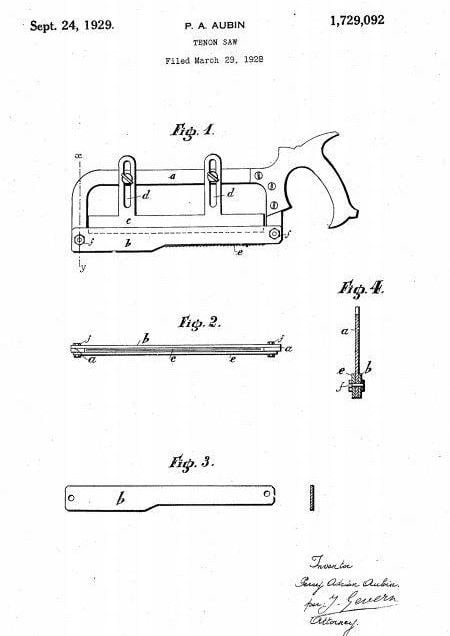 It has an unusual double blade, that resemble a side by side pair of hacksaw blades but with 14 teeth per inch and a metal clip at the top to hold them together. Each blade measures 8" center to center on the holes at each end.
Next to that is the adjustable depth stop, with the two wingnuts on the main frame that allow adjustment of the fence up and down.
Next to the adjustable fence is the fixed fence, with the unusual tapered shape to it, which allows easy engagement to proceed with the next cut.
Apart from the lower horns of the handle having been trimmed off - presumably after being broken - its in very good condition, but would benefit from a light cleaning and fettling the handle back to original style.
The saw looks like a cross between a tenon saw and a hacksaw with a nice open wooden handle and a bent steel frame; a guide fence is fixed alongside the cutting blade and registers into the previous cut.
The adjustable stop controls the depth of cut, which needs to be a little more than the thickness of the wood in use. The guide fence has a toe piece at the front, making it possible to start each cut easily.
If you have ever tried to cut combing joints by hand you will soon realise this joint is more suited to a machine, unlike the dovetail joint, which seems to lend itself to hand work. Maybe this is because the grain of wood is in-line whereas with a dovetail it is slightly across the grain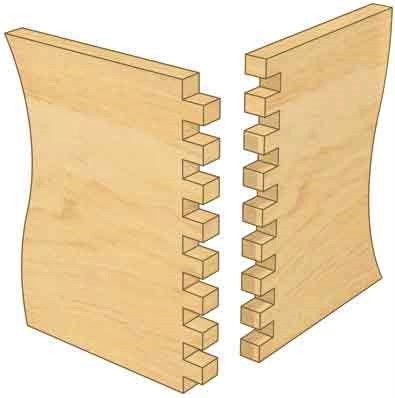 This is the perfect tool for cutting joints for small boxes or trays from wood about 1/4" thick or less. This very simple and easy to use saw would be so easy to make today, so why has no one thought of resurrecting Aubin's clever idea?