Thomas Norris Plane high pitch setting device
Posted on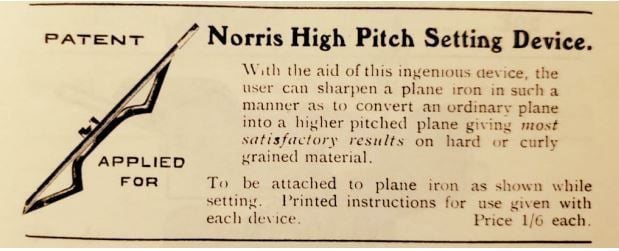 An elusive and very rare accessory, if ever it was actually produced!!!!
Whilst talking to a knowledgeable tool collector (who appreciates all things made by Thomas Norris), he mentioned that he had never seen, in all his years of searching, an item that is shown in the 1914 Norris catalogue.
Namely, the " high pitch setting device". (page 11)
According to the description,
" with the aid of this ingenious device, the user can sharpen a plane iron in such a manner as to convert an ordinary plane into a higher pitched plane giving 'most satisfactory results' on hard or curly grained material.
To be attached to plane iron as shown while setting. Printed instructions for use given with each device."
Presumably, For use on a bevel down cutting iron. It appears that the device would get bolted onto the flat side of your iron, to run on your oil-stone, sharpening and creating a uniform back bevel. Thereby, increasing your cutting angle or pitch.
Has anyone else seen one? Or, even a photograph of one?
If so, please tell us where, as we would like to know if they were actually made and sold.