Hand Tool Extravaganza
Posted on
The 'Vintage hand Tool Extravaganza' is back on.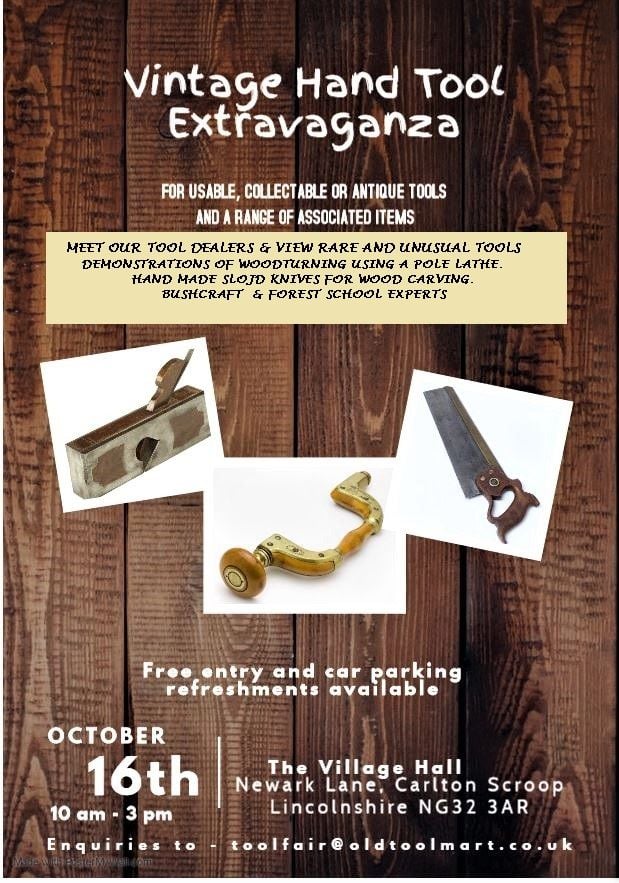 Previously postponed due the the covid restrictions, happy to announce that the event is now booked for October 16th 2021.
With free entry and free car parking.
The Village Hall
Newarl Lane
Carlton Scroop
NG32 3AR
Lincolnshire
Come and meet the Tool Dealers - David from Norfolk, Robert from Old Hand Tools, Brian the Norris Plane man, Adam a knife maker at Ash and Iron, and of course myself, the 'other' Robert
Old Tool Mart
As well as being able to look at and buy the tools, and maybe sell some of yours to the dealers, we have various demonstrations.
* Pole lathe woodturning by Gary, aka 'The Wobbly Bodger'
* Bushcraft and Greenwood expert Martin Rollins
* Lincolnshire Woodturners
* Display of some rare and unusual hand tools
For your delectation there will be slices home-made cake, with a cup of tea or coffee, will be available.
A great opportunity to meet up with like-minded tool enthusiasts.
If you need any more details or information please message me, especially if you are wanting to buy particular tool. I will circulate any 'needs' to all the dealers, since their stalls will only have so much stock for the day - it means they have the chance to dig out what you're looking for in advance.
Look forward to meeting up with old friends and customers and making many new ones!
Regards to all, Robert